Have you ever heard about the "Loire valley in Parma area?"
The area between Parma and Piacenza, in Emilia Romagna region is well-known for its numerous castles similar to those of France's Loire Valley.
They belong to the circuit of the Duchy of Parma and Piacenza.
We suggest you plan a visit on next June:
you will feel as though you're travelling through the past, discovering the glory of castles, fortresses, strongholds, palaces and manors, and letting your imagination run wild to a time when this part of Via Emilia was still very far from being driven on by motor vehicles.
We organize for you the itinerary as follows:
First stop on the banks of Po River at Colorno, where the Ducal Palace, often referred to as "the Duke of Parma's Versailles", will leave you breathless.
Surrounded by wonderful French gardens, it reached the height of its splendor thanks to the beloved Maria Luigia of Austria (Napoleon's second wife), who made it her summer residence. 
If you wish to combine art and taste, do not miss to book the following private tour:
From the "Versailles Palace" in Colorno to the Culatello experience
Second stop: a few minutes from Colorno, in the Lower Parma Area, enjoy the visit to Rocca Sanvitale, at Fontanellato.
Surrounded by a moat that makes for a perfect fairy-tale setting, this fortress is enchanting at first glance, but the real treasures are kept inside.
One of these includes the small room painted by the well-known mannerist artist Parmigianino, in 1524 portraying the myth of Diana and Actaeon, while the other is the only operating Optical Room in Italy, where a system of mirrors reflects the image of the square in front of the fortress on a screen.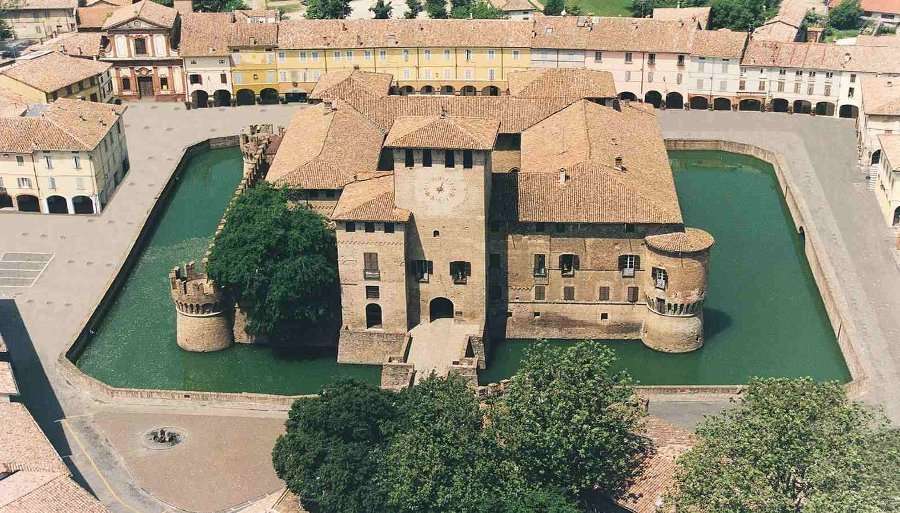 Combine its visit with the Bamboo Labyrinth
Third stop: come to visit the seat of our tour operator! Climb the Parma Apennines because your next stop is none other than the notorious medieval Bardi Fortress, where the world's first thermal image was recorded, believed to be the ghost of Knight Moroello. Here, you will be struck by its fortress enriched by boundary walls and dark prisons.
Do not lose your time and book our original tour Hidden treasures in the Ceno Valley and visit a Parmigiano Reggiano Cheese Factory!
Last stop: just a few minutes from Bardi, you will discover the cute village called Compiano and its elegant castle. Here you will visit to the rich eclectic collection exhibited in those sumptuous rooms, tastefully furnished by their last owner, the Marquise Raimondi Gambarotta.
Choose our exclusive tour by night with toast in the tower!